You can modify both the length and thickness of your walls.
Adjusting Wall Position and Length
Once you've created an outline for your room or house, click on a wall and you'll see two types of growth handles appear.
The handle with an up and down or right to left arrow will allow you to move your wall inward or outward vertically or horizontally.
The handle at the corners where walls meet will let you adjust your wall diagonally by letting you move the placement of the corner.
Grab any other part of the walls to move the entire room, including all of the room's contents.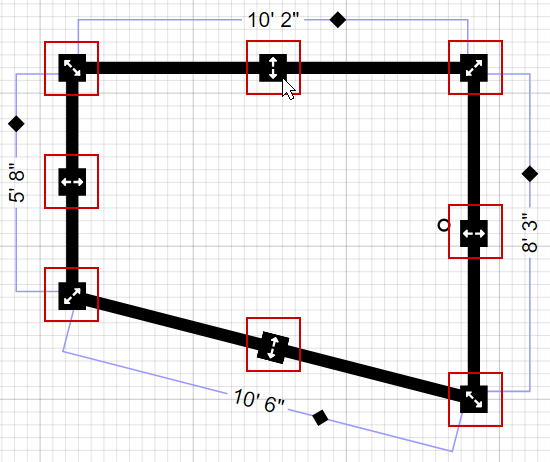 To set the length of any wall segment, select the dimension and type the new length in there. All connected walls will adjust accordingly.
Adjust Wall Thickness
To adjust the thickness of your walls, read how to create custom line and wall thicknesses:
Custom Line Thickness Dialog
Click on the Line menu and select Line Thickness and choose More.
Set your wall thickness to anything you want: